Daily Updates – Sunday, July 8
What a great night to kick off our first week of Adventure Camp, Munchies, Spec Trek, Spec Sports and DISC! After our Sunday service everyone met their cabins and all of the staff members. The chaplain this week is Bart Keefer from Wainfleet and he will be speaking about this summer's theme "Worth It". Here is a picture of him and his wife, Joy at our campfire service today: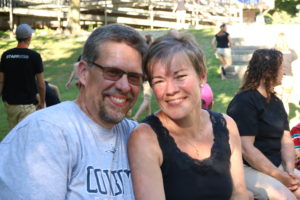 Just a reminder that you can email your camper at any time this week and if the message is sent before 10:00 am they will receive it that same day at lunchtime. Also be sure to enter your email in the touch box to receive email updates for every posting, and to like and check out our Facebook page for lots of photos to be posted everyday this week. Looking forward to a great week!
[custom-facebook-feed]