Ready… Set… STOP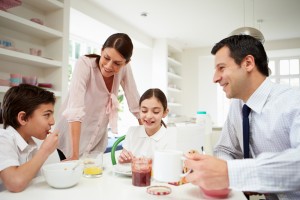 The alarm rings at 5:30am and you're up out of bed starting the coffee and catching up on the early emails. Your wife is already in the shower getting herself ready for another busy day. After you let out the dog, finish the dishes from the evening snacks, and start the breakfast routine, it is time to get the kids up for school. The activity level now starts to kick into another gear, as lunches need to be made and packed, homework checked, and backpacks filled. Your wife grabs her tablet to see the daily calendar of after school activities, sports, music and dance lessons and meetings that may be scheduled. Like a fine oiled machine, the family hugs and kisses each other and heads to their respective means of transportation, texting everyone to "Have a Great Day! Love you Mom and Dad!" Now it is 7:30am. Are you tired yet?
At 11:00am, your wife gets a call from the school that one of kids is sick and now the juggling starts; she texts you, "Can you pick up Jamie at school? She is sick." You text back, "I am in a meeting until 11:30 and will take an early lunch to pick her up." You say, "I can work from home this afternoon if you can take Roger to drum lessons then pick up Swiss Chalet on your way home." Now it is 7:00pm.
Welcome home dear! Jamie is feeling better. The Dog missed everyone and you have the table set for Swiss Chalet. Dinner done, homework started, bath times, pyjamas, emails, internet, and Wii round out the evening: Kids in bed by 9:00pm. You clear the dinner dishes, your wife is following up on some office work left unfinished and finally you both crash to the family room to have some time together; checking Facebook and more emails, looking for items on Kijiji, watching a TV show and reading. The news comes on at 11:00pm and she is off to bed. You finish the night by letting the dog out and checking the calendar to see what tomorrow will bring. It is 11:40pm.
The alarm rings at 5:30am ….
If this sounds like your life … STOP! Take time to Rest and Relax!
God desires rest for us because it does not come naturally to us. To rest, we have to trust that God will take care of things for us. We have to trust that, if we take a day off, the world will not stop turning on its axis. From the beginning (Genesis 3), when we decided that we would start making all the decisions, mankind has become more tense and less able to relax. It was disobedience in the Garden that started the problem, but obedience now will bring the rest that God so desires for us (Hebrews 3:7 – 4:11). If one of the definitions of "relax" is "to become less firm," then relaxing our grip on our own lives, careers, families, etc., and giving them over to God in faith is the best way to relax.
Resting in Christ results in a peace that goes beyond understanding; Relaxing on a Retreat at Countryside Camp will Refresh and Renew your spirit. Reconnect with Him in new ways at camp and celebrate your re-entry into your life with joy!
For more information about our retreat facilities go to countrysidecamp.com. To inquire about availability and to schedule a tour, contact Kim at countrysidecamp@gmail.com. Or 1-888-226-7722 ext. 1.