Are you looking for gifts to give to friends, teachers, co-workers or even for yourself? Countryside Camp is offering Christmas Baking to raise funds to support the ministry of Countryside Camp and Camp Shalom. Support a great cause while also filling your Christmas shopping list.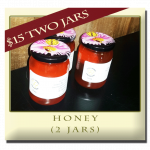 Ordering is now closed.
Please pick up your order at Countryside Camp in Centre Hall on Dec 7th, 10am-5pm. Your order can be paid for by cheque, cash, debit, Visa, or Mastercard at pickup.

Four Delicious Choices
Christmas Cookies $20
Four dozen variety pack of Christmas Cookies. New for 2019 are Sea Salt Toffee & Chocolate Cookies. Other varieties include: Gingersnaps, Sugar Cookies and Chocolate Crinkle. $20 for 4 dozen.
Boterkoek $10
A dutch delicacy called Boterkoek. Translated to be Butter Cake. $10 for an 8 inch round Boterkoek.
Brownies $10
Back by popular demand! 6×8 inch pan of thick chocolate brownies with an added bonus of being Vegan and Gluten Free. $10 for one 6×8 tray.
Honey $15
Two 500g Jars of Honey for $15. This honey was made by the Henderson Family using bee hives located right here on Camp property. The quantity of honey harvested was even better than expected so we are pleased to offer a limited quantity for sale.
Win Your Order for FREE!!
Let your friends know that you ordered Christmas Baking by Sharing on Facebook for a chance to win your order for FREE!