Our Facility
Camp Shalom is a summer ministry of Countryside Camp and Conference Centre. Our facility is situated on a 135 acre oasis just minutes south of Cambridge, ON. We have building accommodations for up to 160 people, with dining facilities in multiple buildings.  We offer a wide range of recreational activities and amenities.
Amenities
We have a pool, spray pad, waterslide, two ponds, canoes, kayaks, mountain bikes, frisbee golf, soccer field, basketball court, volleyball court, ball hockey, archery, slingshots, trampolines, hiking trails, tetherball, hammock hangout, tuck shop, a playground, and more.
Staff
Each summer we hire approximately 35 summer staff. Staff must be a minimum of 16 years of age.  Each staff member goes through a thorough interview process including reference checks and criminal records checks.  Once hired, our staff participates in two full weeks of training that includes everything from safety protocols, to behaviour management, to leadership and spiritual training.  On top of our counseling staff, we hire two healthcare coordinators and three lifeguards.  We take pride in our excellent staff and the positive impact they leave on our campers.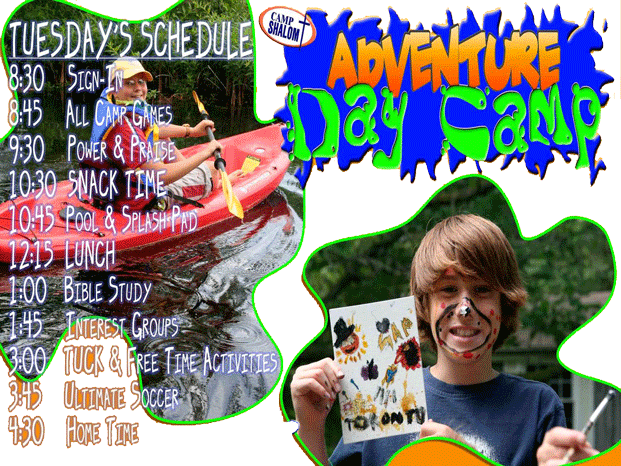 What are the drop off and pickup times?
Drop off is between 8:30 and 9:00am
Pickup is between 4:00 and 4:30pm
Extended care is available until 6pm for an additional $50 fee.
Is there a Nurse at the Camp?
Every summer Camp Shalom employs two Healthcare Coordinators who are required to have the qualifications of an upper year nursing student or similar. At least one is present on camp property at all times.
How do I register for Camp Shalom?
I am worried about my campers safety. How can I be sure he or she will be safe?
Camp Shalom is committed to making your loved one's stay at camp as safe as possible. We have emergency procedures in place for situations like severe injuries, tornados, fires, or emergency situations. There are also two Health Care Coordinators on staff, and we have qualified NLS lifeguards at the pool and at the kayaking pond. We are one of the few summer camps who require staff to participate in a two-week staff training time. We have a local doctor whom we can call if our healthcare staff has any questions, and we are able to get same-day appointments if necessary. In emergencies we are a fifteen-minute drive away from the hospital.
We believe that providing your loved one with the best summer camp experience possible rests heavily on our having the best summer staff possible. Our staff members are hired based on their spiritual testimonies, demonstrated life experiences, current qualifications, and clear criminal records checks. Each year we take great pride in the quality of our summer camp staff. Campers are supervised at all times by a staff member, whether that is at the pool, during free time, or at other activities like canoeing or the waterslide.
Still not sure? We would be happy to give you a private tour and answer any questions you may have.
What exactly does the Camp teach?
Each year Camp Shalom has a different theme for the focus of its Bible studies and chaplains' messages. This theme is different every year, but the overall and most important message is the same: that God created us, loves us, and sent His Son, Jesus Christ, to die for our sins. We are saved by grace through faith, and we can have a personal relationship with God.
Call or email the office and talk to Kim at 1-888-226-7722 x1x1. There is a $10 non-refundable deposit for all kids' overnight and day camp programs. Cancellations made after May 15th are subject to a 50% fee.
Is extended care available?
Yes, if you need to pick up your campers later than 4:30pm, we offer extended care until 6pm. Extended care is available for an additional $50 fee per week.
Don't see your question here? Contact Us.