Countryside Camp and Conference Centre serves as the retreat facility of choice to over 4000 guests from September to June each year. Understanding your needs as a retreat coordinator when it comes to food service is just one of our major strengths. We offer you the choice of In-House Catering or Self-Catering for your retreat.
In-House Catering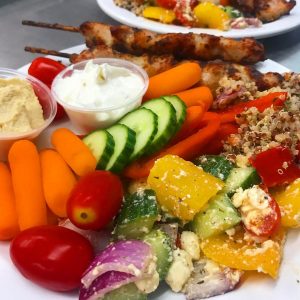 The Food Service Staff at Countryside Camp and Conference Centre works diligently to provide all our guest groups with the best in food quality and quantity. We have created a nutritionally balanced menu for retreats that will surpass any of your old 'Camp Food' memories and will leave you wanting to come back for more. The mix of organics and homemade items serve as a benchmark to the level of quality you will come to appreciate and expect when being served by her staff. Just the smell of the homemade brownies baking and the anticipation of that first chewy bite will…. Sorry, I was off in brownie dreamland. You will understand what I mean should you choose this option and it is available.
This is not "Camp Food." Let us worry about serving the best meals possible while you focus on organizing the best retreat possible.
We are pleased to present you with a variety of meal options through our catering services and encourage you to contact us regarding your group's food needs.
Self-Catering
The self-catering option is available to guest groups whose culinary tastes are more cultural than our traditional Canadian menued items. Each of the three lodges available at Countryside Camp have fully equipped, Board of Health inspected, commercial kitchens: stainless steel work surfaces, knives and cookware, flat ware and serving utensils, coffee makers, automatic dishwashers, refrigerators, freezers, stoves and ovens. All this and at no extra charge for your retreat!