Countryside Camp and Conference Centre serves as the retreat facility of choice to over 4000 guests from September to June each year. Understanding your needs as a retreat coordinator when it comes to food service is just one of our major strengths. We offer you the choice of In-House Catering or Self-Catering for your retreat.
In-House Catering
$79.20 per weekend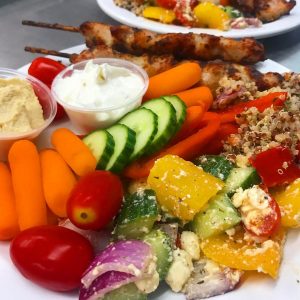 At Countryside Camp and Conference Centre, our Food Service Staff is committed to providing our guest groups with high-quality and abundant food. Our nutritionally balanced menu for retreats goes beyond traditional 'Camp Food' and is sure to exceed your expectations. Our use of organic ingredients and homemade items sets the standard for the level of quality you can expect from our staff. The aroma of freshly baked homemade brownies is simply irresistible, and we're sure you'll agree once you try them for yourself.
So why worry about meal preparation when you can focus on organizing the perfect retreat? Our catering services offer a range of meal options to suit your group's needs, and we encourage you to get in touch with us to discuss your requirements.
Sample 5 Meal Menu
Only $79.20 per person
Includes 2 Breakfasts, 2 Lunches, and 1 Dinner
* Coffee and Tea are available at all meals; Water, Juices and/or punch served at each meal.
 Saturday
Breakfast – Served at 8:30
Pancakes, Breakfast Sausages, Cereal & Oatmeal Bar, Fresh Fruit Platter
Lunch – Served at 12:30
Chef's Soup, Assorted Sandwiches, Coleslaw, Veggie Tray with Hummus, Chef's Choice Dessert
 Dinner – Served at 5:30 pm
Maple Pork, Mashed Potatoes, Roasted Vegetables, Garden Salad, Chef's Choice Dessert
  Sunday
Breakfast – served at 8:30 am
Scrambled Eggs, Homefries, Bacon, Toast, Cold Cereal Bar, Fresh Fruit Platter
Lunch – Served at 12:30
Chicken Pot Pie with Biscuit Top, Caesar Salad, Garden Salad, Chef's Choice Dessert
Self-Catering
The self-catering option is available to guest groups whose culinary tastes are more cultural than our traditional Canadian menued items. Each of the three lodges available at Countryside Camp have fully equipped, Board of Health inspected, commercial kitchens: stainless steel work surfaces, knives and cookware, flat ware and serving utensils, coffee makers, automatic dishwashers, refrigerators, freezers, stoves and ovens. All this and at no extra charge for your retreat!