Donating without the Hassle or the Hustle!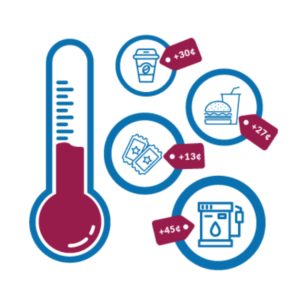 I have been fundraising for Christian causes consistently since 1988, both in the United States of America and here in Canada. My staff sometimes call me the most rejected person they have ever met; but I don't take it personally. To last in this calling you have to love it, which I truly do.
I have the wonderful opportunity to share the impact that Jesus Christ has made in the lives of campers, guests, staff, volunteers, and retreat guests here at Countryside Camp the summer home of "Camp Shalom" with foundations, businesses, churches, and individuals continuously throughout the year. But as you well know this message of love, redemption, grace and power is not often embraced by those with whom I have the opportunity to share. You may find this hard to believe but even within Christian Churches and Organizations, I have many times been turned away.
I remember being invited to celebrate the dedication of a beautiful addition to a solid, vibrant, Christian Church here in Ontario. Upon arriving, with intention, the Pastor welcomed me and sat me at the furthest table from the front and said, "I still have $1,000,000 to raise for this building, so don't ask anyone here for money."  Wow! I am from Pennsylvania, and growing up we had a saying, "Don't let the down hit you on your way out!" Ouch!  I understand that fundraising seems hard to many people because we have a tendency to focus on the need and the $$$$ dollars.
In 2011, I read a great book about stewardship and fundraising by R. Scott Rodin titled, "The Third Conversion."  In his book, Rodin writes, "The conventional wisdom is that ministries need their supporters in order to operate, to exist. We go to work with this 'needy' mindset and treat our supporters as if they only have things to give and we have all the need. But from a biblical stewardship's perspective, the truth is actually the opposite. As God's people, we are given the privilege and calling to be faithful wise stewards of what God has given to us. But to do that, we need credible places to give to, ways to invest God's resources that are both efficient in using money and effective in employing it for kingdom purposes. When I do my job well, I provide the place and means for God's people to carry out their calling, to be obedient and faithful in an effective way."  Countryside Camp and Conference Centre the summer home of "Camp Shalom" is just such an organization and I am a means, a sojourner, available to walk-a-alongside anyone on their stewardship journey. That is way this is ministry and not fundraising.
Today, I wanted to share with you some exciting statistics that show how the next generation of stewards are using the funds they have been entrusted with to impact charities and also the means they have chosen to use to facilitate the blessing.
With a mobile economy expected to double by 2020 to more than $100 billion, companies are focusing their efforts toward a younger demographic to address these trends. While approximately 65 percent of American households give to at least one charity, nearly 85 percent of millennials donate to charity, according to the Millennial Impact report, leading some to proffer that millennials are the most generous generation. (techcrunch.com)
Online Giving For Churches
49% of all church giving transactions are made with a card.
8/10 people who give to churches have zero credit debt.
60% are willing to give to their church digitally.
Tithers make up only 10-25 percent of a normal congregation.
Churches that accept tithing online increase overall donations by 32%.
Only 5% tithe, and 80% of Americans only give 2% of their income.
Christians are giving at 2.5% of income; during the Great Depression it was 3.3%.
Only 3-5% of Americans who give to their local church do so through regular tithing.
When surveyed, 17% of Americans state that they regularly tithe.
For families making $75k+, 1% of them gave at least 10% in tithing.
3 out of 4 people who don't go to church make donations to nonprofit organizations.
The average giving by adults who attend US Protestant churches is about $17 a week.
37% of regular church attendees and Evangelicals don't give money to church.
17% of American families have reduced the amount that they give to their local church.
7% of church goers have dropped regular giving by 20% or more.
About 10 million tithers in the US donate $50 billion yearly to church & non-profits.
77% of those who tithe give 11%–20% or more of their income, far more than the baseline of 10%.
7 out of 10 tithers do so based on their gross and not their net income
(nonprofitsource.com)
Paperless finance has been preached to us so much and following the Canada Post strike a number of years back it became the default means of bill paying in much of Canada. So, have you given the same thought to making your charitable gifts in the same manner?
For me, I love setting up my charitable giving annually in January on-line, through my banking app or on the desktop. I follow these three simple steps: I determine how much I want to give for the year; next I identify the charities that align with my personal giving profile; then I seek out the best way to make regular contributions (weekly, monthly, quarterly, and annually.)
One of the trending new methods of donating to your favourite charities is through apps and today I just downloaded Mylo. Canada Helps has teamed up with Mylo as part of their commitment to inspire giving. It took me about 10 minutes to set up my profile and connect it to my banking information. The cool party is this: I selected the Round Up to Give program, set Countryside Camp and Conference Centre as my charity of choice, and set a goal of $50 to test it out. Now here is the best part, Mylo has partnered with CanadaHelps and will round up each purchase you make to the nearest dollar and, each month, donates the total to the charity I selected using CanadaHelps! Mine is Countryside Camp and Conference Centre! Once my goal is reached, I can set another or select a different charity for the next round.
Not sure if this is effective; test it for a month, like me and see. Am I really going to miss the .25 change off of the Timmy`s coffee or the .45 change from the No Frills groceries? I will see in a month and let you know how much I was able to bless the camp. Let me put the challenge out there and together let's see what happens.
Here's the link to the Mylo app: https://www.canadahelps.org/en/round-up-to-give-with-mylo/
Take care!
Tim Partridge
Managing Director