Summer just wasn't summer without Camp Shalom!
From as far back as I can remember I attended Camp Shalom. Summer just wasn't summer without it!  From Munchkins to Wilderness, DID's and SIT's to Senior Week, I savored it all!  So by the time I was even close to being eligible to apply as a staff member I jumped at the opportunity.  I had the privilege of being a camp counselor in the summer of 2000 and 2001 and it most definitely paved the way for where I am today!
One of the most memorable and life changing things for me about Camp Shalom was the leaders that I met along the way.  Take Klaas Detmar, for example, who came to speak during our staff training before the summer started.  He spoke to us about our need to prioritize spending time with God in prayer and the Word.  I don't remember exactly what he said, but I do remember thinking that this man is really in love with Jesus!  To this day, I still hope and pray that people see in me the kind of love that I saw in Klaas because of his time with Jesus.
Reverend Cliff Turkstra is another leader whose words challenged me and opened my eyes to the supernatural power of God.  I remember him sharing testimonies during Summer Camp of how this place had come to be and of God's supernatural provision.  I remember him speaking with the staff about spiritual warfare and the power of God.  Reverend Cliff taught me that God is a whole lot bigger and closer than we think!  And I remember longing to know God and hear from Him in the way that he did!
Calvin Ver Mulm is another leader that I will never forget!  He was overseeing Camp Shalom and the summer staff while I was there.  What struck me the most about Calvin's leadership is that he led out of relationship and not authority.  I did some…. questionable things while at camp.  (Come on!  We all did!)  One of those things—long story short—involved eating something that I thought was milkweed and having Calvin watch me in my sleep to make sure that I didn't die. Turns out it wasn't milkweed!  Calvin modelled what leadership looked like as a dad and not a boss!  He was always part of the team!  And he was right there to pray with me and lead one of my camper's to faith in Jesus Christ.  I'll never forget it!
Camp Shalom was really my first taste of the power and impact that a leader can have on one person's life.  I could go on and on about the leaders at camp that have changed my life and encouraged me to be where I am today!  I'm currently serving as the Lead Pastor of Westside Community Church in Mississauga where our vision is to send out disciples to proclaim the gospel with signs and wonders.  Camp Shalom made me realize that there is nothing like leading people to Jesus!  And I'm continuing to see lives changed by the gospel in where God has me today!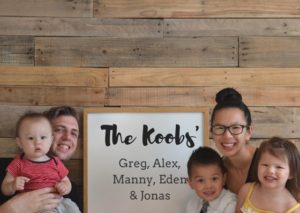 More than a pastor, I'm a husband to my gorgeous wife Alex, and a father to our three wonderful children, Manny, Eden and Jonas…. with a fourth on the way!  I'm so grateful for the ministry of Camp Shalom and pray that just like me, many more lives will be impacted and set on fire for Jesus by its leaders!
Greg Koobs