This themed event hosts thousands and offers attractions and events for guests of all ages; Inflatable Rides, an Animal Train, a Kidsland Adventure area with games for the kids, a tea room with Dutch treats for the young at heart and food; Dutch food specialties as well as fresh made pies and baked goods in our Country Store and Produce Tent.
Bob DeVries is back as our very own Chainsaw Artisan! His creations will be up for auction during the afternoon of the fair. Also up for auction will be beautiful Mennonite made outdoor furniture built out of recycled plastic.
This event serves as the largest annual fundraising event of the ministry of Countryside Camp with a Silent Auction, Specialty Auction, and a Cake Auction you won't want to miss. All proceeds go to further the ministries of Countryside Camp and Conference Centre.
So mark your calendar; September 21, 2019 10am to 3 pm at Countryside Camp and Conference Centre, 1985 Beke Rd. North Dumfries Cambridge Ontario.
Sept 21st
10:00am to 3:00pm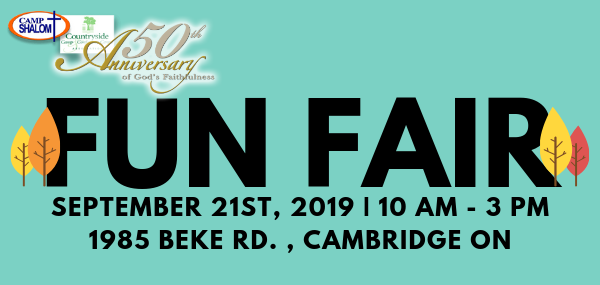 50th Anniversary Celebration Concert
Our 50th Anniversary year of celebrating God's faithfulness continues with our very special guest Canadian Worship Leader Brooke Nicholls. Together we will celebrate God's faithfulness and the impact that His ministry at "Camp Shalom" has made in the hearts and lives of children, youth, and young adults as well as adults with special needs across Ontario.
Join us at Cedar Creek Church on Saturday, November 16th at 97 Hwy in Cambridge at 7pm for a memorable night of worship, testimony and praise.
Opportunities to support the ministries of Countryside Camp and Conference Centre will be presented during the evening.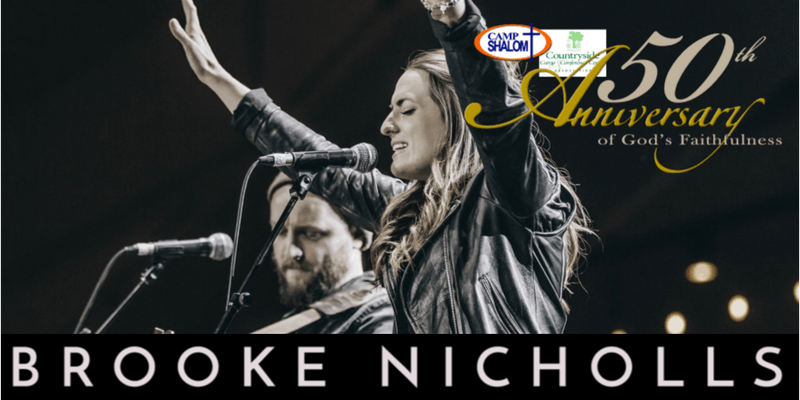 Are you interested in more info about the 50th Anniversary Celebration Concert?