Antique Farm Implement Show to be hosted at this year's Annual Fun Fair –Sept 16, 2017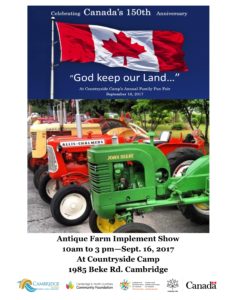 We are pleased to present to you with this information regarding our 40th Annual Fun Fair to be held on Saturday, September 16th, 2017 from 10am to 3pm.  The theme for this year will be "God keep our Land …" A celebration of Canada's 150th Anniversary and "Camp Shalom". 
Don't think of the fair as just another fundraising event. The Fun Fair is one way we provide opportunity for spiritual growth, nurture and fellowship. The focus is a celebration of God's blessings on His ministry at Countryside Camp using the food, amusements, and auctions as a tool for guests to express their financial support. The Fun Fair is family friendly, spiritually focused, and has served to re-unite old friends and acquaintances throughout the years. Whether you are young or young at heart, there is something for everyone at the fair.  So come out and be part of the blessing.
As I mentioned this event serves as the largest single fundraising event for our organization attracting between 2000-3000 guests from all over Southern Ontario. The event hosts 13 different food booths sponsored by the volunteers of the camp and local churches, Dutch, Canadian, Spanish foods are served; a kids areas with inflatable and mechanical rides; tea room, dollar store tent, a Produce tent and Country Store Bake Sale Tent; Silent Auction Tent, A Specialty auction for larger items, and a Cake Auction featuring themed cakes decorated for display and auction.
This year we are also planning on hosting one of our own featured Chainsaw artisan- Bob DeVries. This year we want to Celebrate Canada's 150th Anniversary and God's ministry here at camp and have chosen the theme based on the second verse of the national anthem: "God keep this Land…." 
 Keeping mindful of this blessing and prayer; we will be hosting an Antique Tractor and Farm Implement Show to celebrate the role that Canadian Agriculture has played in the 150 year heritage of this country.  We are hoping to attract 50-70 units for display in the Soccer filed area and will be providing the spaces free of charge. One of the ways we hope to educate the public is with a QR code scavenger hunt: developed by staff and a board member of the camp. Each Tractor displayed will have a photo and a brief history of the piece written and posted to a website with a specific QR code for a landing page. As the players go around the fair grounds they will learn about the history and impact these wonderful pieces have had on Canadian history. Completed hunts will be validated at the Board Booth at the fair and prizes awarded to participants.
We have received a matching grant from Canada 150 Cambridge Fund & Community Fund for Canada's 150th in support of this Heritage Show. We wish to thank those on the granting committee for supporting this great cause and celebration!
@cityofcambridge @CNDCF @CommFdnsCanada @Canada150
https://www.facebook.com/thecity ofcambridge
https://www.facebook.com/CNDFoundation
https://www.facebook.com/CommunityFdnsCanadaHome
https://www.facebook.com/Canada150th