Camp Shalom Alumni Spotlight – Bill Wensink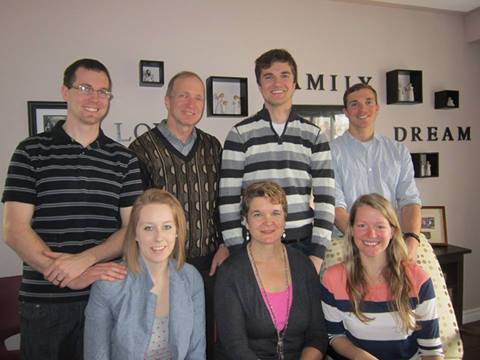 Bill Wensink, one of our "Camp Shalom" alumni that has served on staff during three different decades since the 1980's. Bill shares some of his memories of camp throughout the years.
The biggest blessing is not only being able to look back at being on staff, (those are numerous), but also in keeping the blessing current. Being part of the Program committee and being a chaplain annually is a way to keep the blessing moving forward.
To continue to give and see people at the Fall Fair is wonderful. To see the children of former staff members that worked with me at Camp now send their kids to camp is thrilling. It's like teaching the children of my former students. (as I do). Truly, the gift goes on, and on.
Many former fellow staff members were high school and university students as I was when on staff. Now they serve in their churches, the community and all over the world. Some serve in simple, quiet ways in their homes and churches and others in more visible areas.
I remember Rev. Drost and Rev. Wilts challenging me to be a leader. Shalom gave me room to learn who I was, and whose I was, the Lord Jesus Christ. Camp Shalom leadership taught me to be bold and to have, share, and live a real faith. Leading Discipleship one year taught me that the challenge to reach up and out continues and must be passed on.
My memories serving on Camp Shalom Staff.
A youth group I led was the first to rent out the Shalom house and several of those "campers' are now church leaders. With enough time, I could think of a dozen great stories.
Simple faith sharing in cabins late at night and seeing the Spirit use a spark in me, to let His spark light another heart is the biggest blessing.
Leaving Marion's backpack behind on another trip made me remember what could have been disastrous, turn out funny. (Adrian Stelpstra delivered it)
One year, a group that I led on the Algonquin trip found the missing bear barrel that another group lost. It had been much "bear mauled." That taught us all about food storage in bear country.
My memories serving as a volunteer.
Leading a hike on one Anchor weekend, in silent reflection, touched us all like words cannot. (One of them lives hours north of here now.)
Taking a walk to the back forest cross last winter had me prayerfully think about many of the blessings.
My memories serving on the board.
Hearing students share when they are interviewed for a position lets me see the heart of so many who might be sharing in the future.
Visiting a church that I never even realized had a Shalom connection, yet there was our summer poster, made my heart sing.
The Legacy of Camp Shalom and my family.
Seeing all three of my sons grow in faith on summer staff is an awesome blessing.
One of them led Discipleship (Matt) and then challenged me to lead.
One met his wife at camp (Josh and Danielle).
One of them (Nathan), grew in his faith, leadership, and learned to kayak.
I now have 3 (almost) grandchildren and will encourage them to have a real faith, and use the blessings of camp.
Yes, the biggest blessing is to know and see how many people have made faith steps at Camp.
The Father gave the Son, the Son gave the Spirit, and the Spirit gives us life, and the gift goes on.
"Let your light so shine, that they may see your good works, and glorify your Father in heaven." Matthew 5:16
Our old song still hold (sung every week for years)
"Shalom my friend, Shalom my friend.
Till we meet again, till we meet again, Shalom"
Bill and Kathy Wensink, Discipleship Leaders
Nathan Wensink, Counsellor
Josh and Danielle Wensink, Maintenance and SCC
Matt Wensink, Discipleship Leader