Stand in the Gap – 2020 How does it work?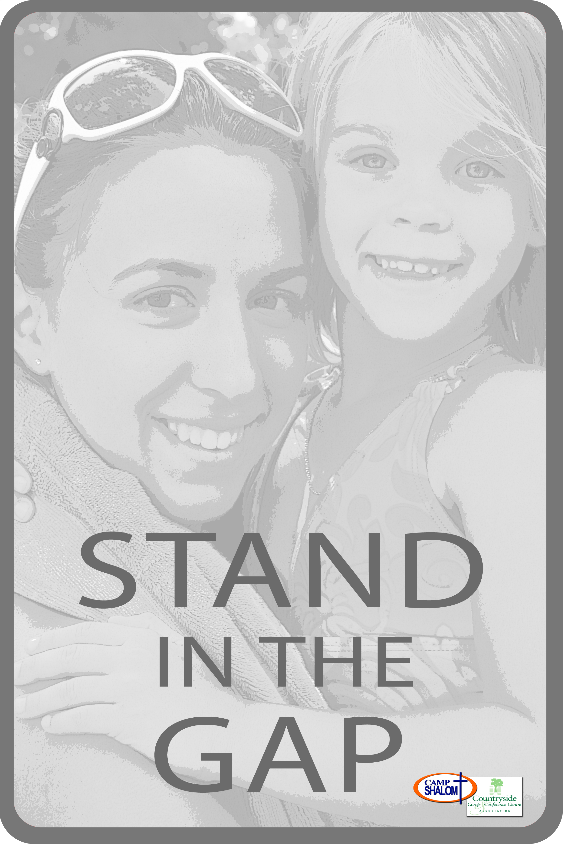 Stand in the Gap is not just a camp sponsorship program that "enables" people to attend camp for a reduced fee; it is a process that sees poverty as the result of relationships that do not work, that are not just, that are not for life, that are not harmonious or enjoyable. Poverty is the absence of shalom in all its meaning. Poverty exists where one or more of the four foundational relationships for each person are broken: a relationship with God, with self, with others, and with the rest of creation.
Jesus stated in scripture, Mark 14:7 "For you will always have the poor with you, and whenever you want, you can do good for them." Our goal moving forward with SITG is to define "good" as the process of ongoing change that moves a little boy or girl, a teen, or an individual with 'special needs' closer to being in a right relationship with God, self, others, and creation.
We are charging $150 for each session and a $50 administration fee for a total of: $200:
to cover the additional food service related expenses,
to cover a portion of the Managing Director's time and office staff in handling and processing the funding for these registrations.
Stand in the Gap will be promoted within selective social service agencies; non-profit charitable organizations, service clubs, (Christian centered) business groups and churches throughout portions of Southern Ontario that have the capacity to determine need within their community.  These organizations will also serve as the means for effective follow up throughout the year. Since initiated in 2010, 869 children, youth, or individuals with "Special Needs" have been able to participate in the Stand in the Gap program here at Countryside Camp and Conference Centre.
The goal for Stand in the Gap is to provide up to 70 children and individuals with "Special Needs", meeting the eligibility requirements, with an exciting Christ-centered summer camping experience this summer for the first time.
Here are the steps for your church to follow in sponsoring a Stand in the Gap camper:
Call Tim @ 888-226-7722 or email Tim (tim@countrysidecamp.com) to check availability and notify him that you want to send a camper.
Your church would identify the individual or individuals within your community that are at risk and financially unable to attend "Camp Shalom" and may have attended camp in the last season. We want to bless many children with the opportunity to experience our programs. It will be your call if you feel a camper from a previous year should attend.
Register Online for SITG
I will give you an agreed upon number of uniquely different single use discount   codes only activated for specific session weeks of summer camp and you distribute them to identified camper parents or caregivers; the parent/guardian will register their child on-line at countrysidecamp.com using this single use discount code. The church will be billed monthly for $200 per camper registered. For a step by step on how to register online, see below.
Follow-up with the family to see if they need a ride to camp
Follow-up with the family to see if they need a ride home from camp
Follow-up with the family to connect them with your church family.
There is a reporting requirement. All organizations are required to submit a summers-end report to the camp. This report will highlight two areas: the journey of the campers identified and sponsored, stating the impact our program has had in their relationships with God, self, others, and creation; and how this program has affected the individual's involvement and relationship with your organization.
Stand in the Gap spaces and (online registration codes) will be assigned for specific program sessions of the summer, this will assist us in maintaining the proper staffing ratios.
The Camp is unable to accept partial SITG payments from participants. Only payments in full ($200) made by sponsoring churches or organizations will be accepted for sponsoring participants. Added donations from sponsoring churches and organization are greatly appreciated as we strive to raise the $45,000 needed to cover the gap between actual costs and this reduced fee.
Set by Step to Register Online.
You will have received an agreed upon number of unique discount codes that can be used once for one camper.
After you have identified a child/family you would like to sponsor, give that child's parent/guardian one discount code for each child.
The child's parent/guardian must then go to countrysidecamp.com and click on the Register Now button. (Please note that the child's parent/guardian must register the camper not the organization).
The parent/guardian must then create an account using their email address. We recognize that some lower income families may not have a computer, you may need to help them by allowing them to use a computer at your organization or at the library.
The system will ask you for your family and child's information.
When you get the "Session Selection" page you must enter your discount code. The discount code will cause the balance on the right hand side to show up as $0.00. T-shirts may be purchased for $15. T-shirts must be paid for by credit card during the online registration process. Churches will not be billed for t-shirts.
If the family has more than one child there will be a tab near the top for each child. Each discount code is only good for one child. You will have to enter one discount code for each child.
The next page will be some more forms to fill out.
The payment page will not collect payment because the balance should be $0.00.
After you submit your registration a confirmation email will be emailed to the email address you used to setup the account. If you do not see the confirmation email it might be in your junk mail folder.
After we receive the registration we will invoice your organization approximately monthly for $200 per camper. We will include the names of each camper that has registered.